Registered Polled Hereford Pair Offered
Registered

Polled Hereford Cow #137 – DOB 09-15-13

sold with her
Registerable

Polled Hereford Bull Calf #137-4 – DOB 07-16-19

This young cow recently calved this beautiful boy! We're offering them both to you as a registered Polled Hereford pair – don't let them pass you by.

See all details for this pair including lineage, price, immunization info, etc. by clicking the Taylor-Made Ranch Cattle For Sale button below.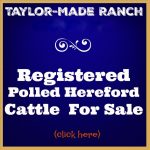 We also have other weaned registered Polled Hereford weanlings to offer, both bulls & heifers. We'd love to talk to you about any of them.

Want to know when we offer calves for sale? Or a registered Polled Hereford breeding bull? Maybe you need a bred heifer? No problem!
Click the 'JOIN NOW' button, enter your email address and be the first to get notified of updates. It will be delivered right to your email's inbox. It's easy too – just add your email address and BOOM!  You'll be notified with each update, cattle offerings, calf, bulls, etc.!