Preparing for A.I… In the RAIN!
We're preparing to A.I. nine of our cows. The protocol we use is a 10-day timed method which involves 3 different injections on different days and the use of a CIDR to regulate their cycle and prepare them for breeding.
But once you pull the CIDR and give that second shot, the clock's ticking! Pulling that CIDR will put them ready to breed in 3 days.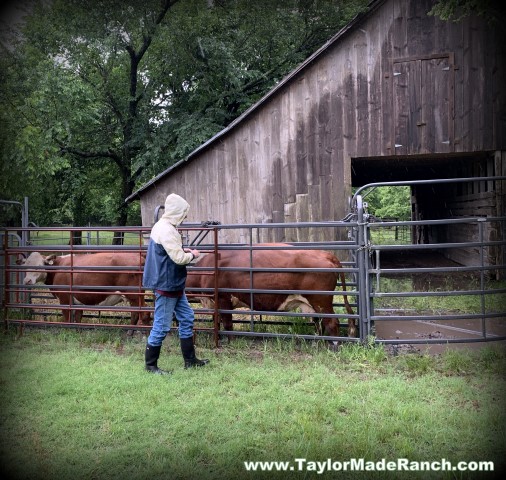 So with an eye on the weather we hoped to be able to remove the CIDR today and start that clock on the way to heat. But with a high percentage of rain all day we knew it wouldn't be a fun chore.
Still we suited up & pushed the girls through the mud and deep slog-holes to get it all done in the pouring rain.
Tuesday is A.I. day! We're excited about the high-impact bulls we've chosen for these girls.
We're currently offering weaned, Registered Polled Hereford calves and they're gorgeous! You can See Them Here.

Want to know when we offer calves for sale? Or a registered Polled Hereford breeding bull? Maybe you need a bred heifer? No problem!
Click the 'JOIN NOW' button, enter your email address and be the first to get notified of updates. It will be delivered right to your email's inbox. It's easy too – just add your email address and BOOM!  You'll be notified with each update, cattle offerings, calf, bulls, etc. You'll receive email notifications to get ADVANCE NOTICE before we offer our animals to the public!