LOOK! A Super-DARK Registered Heifer
We get lots of compliments on the dark red coat many of our Herefords have. We love the darker colors too. But this girl? Now THIS girl is one of the darkest red calves we've ever had!
So if you're looking for a dark-red registered Polled Hereford heifer, don't let this beautiful girl pass you by! She's already registered with the American Hereford Association. And her immunizations & boosters have been administered as part of our rigorous herd-health program. She's as gentle as she can be and ready to become a vital part of your herd.
See all details for this heifer including lineage, price, immunization info, etc. by clicking the Taylor-Made Ranch Cattle For Sale button below.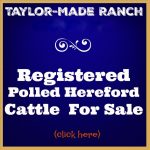 We also have other weaned registered Polled Hereford weanlings to offer, both bulls & heifers. And we have heifer yearlings too! We'd love to talk to you about any of them.

Want to know when we offer calves for sale? Or a registered Polled Hereford breeding bull? Maybe you need a bred heifer? No problem!
Click the 'JOIN NOW' button, enter your email address and be the first to get notified of updates. It will be delivered right to your email's inbox. It's easy too – just add your email address and BOOM!  You'll be notified with each update, cattle offerings, calf, bulls, etc.!